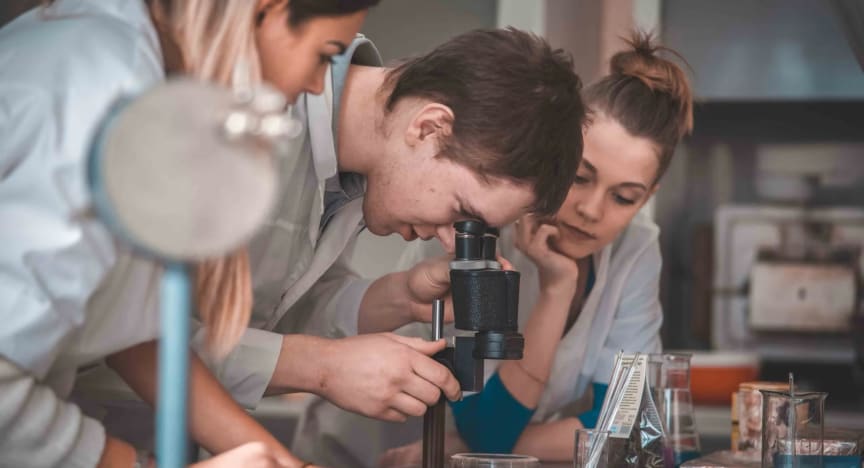 Obtaining medical education abroad is one of the most desirable things among foreign applicants. But obtaining a medical degree in Europe can be challenging. Difficulties may be caused not only by the large number of applicants, but also by the specific requirements of foreign universities, which may be very different from the requirements in your country.
Why studying medicine in Europe?
Studying in European medical universities is cheaper and doesn't take as much time as, for example, in the US, while still remaining high-quality - medical universities in Europe traditionally top world rankings. The standard here is very high and the main focus is put on perfecting practical skills. Students of many European universities spend a lot of time in clinics and research centers starting from their first year of education and get to know the realities of modern medicine. Another feature of European education is its universal recognition; for example, a Czech medical diploma will allow you to work in Germany without nostrification if you confirm your German proficiency at the required level.
Most prestigious European medical universities
If you have realized that you want to get a medical diploma in Europe, you can choose from a plethora of prestigious universities. But bear in mind that each country has its own specifics, methods and requirements in relation to medical education.
Most medical universities that top such rankings as Top Universities and Times Higher Education are located in Great Britain. According to the QS top global universities ranking, the following medical universities were considered among the best in the world in 2021:
All of the abovementioned British medical universities are highly desired. The percentage of accepted students is 34% of the total number of applicants on average. The University of Edinburgh has the least number of accepted applications (10%), while the University of Glasgow has the highest (70%). It's also worth noting that education in Great Britain is more expensive than in other European countries on average, and medical programs are one of the most expensive. A year of medical training in any of the above British universities will cost you about 45,000 euros.
According to the 2021 ranking, some of the prestigious medical departments are located in the following German universities:
Swedish, French and Dutch universities are also some of the highest ranked:
The number of applicants to medical programs in Great Britain, Germany, Sweden and the Netherlands is high even among locals, but foreign applicants may sometimes have a certain number of slots reserved for them.
In order to become a doctor, a student must first study for 5-6 consecutive years. After that, they may receive further training as part of the post-doctoral program (2-2.5 years) and get a PhD title. A doctor is also granted a right to practice medicine alongside a post-doctoral program.
Basic training for medicine-related professions (nurses, obstetricians, assistants, etc.) takes a three-year Bachelor's program. After that, students can continue their training by starting a Master's program (2 years) in a more advanced specialization.
Free medical education in Europe
Some European countries offer free education, including medical education. Applicants are usually required to know the local language at a high level (B2-C1).
In Germany, for example, medical programs in German are available for free in the abovementioned Humlodt University and Heidelberg University if you have an international German proficiency certificate at level C1.
The Czech Republic with its long history of medical education is also known for offering free education programs.
Charles University takes first place in the TopUniversitie ranking of Czech medical universities. Three of its medical faculties - the First, the Second and the Third - are located in Prague. Two other medical faculties are in Plzeň and Hradec Králové. All the faculties work hand in hand with Czech hospitals.
The Charles University's First Faculty of Medicine is the only faculty with a dental center. The faculty cooperates with the General University Hospital in Prague. Some of the programs available here are, for example, "Physiotherapy", "Birth Assistance", "Addictology", "Occupational Therapy", "Dentistry" and "General Medicine".
It's worth mentioning that dentistry training in the Czech Republic is done only as part of a continuous five-year program. General medicine is a six-year program designed specifically for future doctors. In order to be accepted, foreign applicants need an international Czech proficiency certificate at level C1. All of the faculty's alumni agree that entering and studying here is very challenging.
The Second Faculty of Medicine specializes not only in general medicine but also in paediatrics and is based in the Motol University Hospital. It offers the "Paediatrics", "Physiotherapy" and "Physician Assistance" programs as well as the six-year "General medicine" program.
The Third Faculty of Medicine focuses on hygiene and preventive healthcare and cooperates with the Královské Vinohrady University Hospital in Prague. Its programs include "Dental hygiene", "Threpsology", "Physiotherapy", "General Medicine" (also available in English), etc.
Some language schools, GoStudy in particular, offer specialized preparatory courses for admission to medical departments. With enough commitment from the applicant and great knowledge of the language, it all but guarantees acceptance.
Masaryk University in Brno immediately follows Charles University in the Top Universities ranking. It's also one of the most important university research centers in the country. The pride of the Masaryk University's Faculty of Medicine is the SIMU simulation treatment center, which is one-of-a-kind in the Czech Republic. Here, the students of the Faculty of Medicine practice on safe virtual patients and work with cutting-edge medical equipment.
The Masaryk University offers the three-year "Threpsology", "Dental hygiene", "Optics", and "Physician Assistance" Bachelor's programs as well as the six-year "General Medicine" and five-year "Dentistry" programs.
Exams and requirements for foreign applicants
In order to be accepted to a medical department in Europe and particularly in the Czech Republic, you'll need a confirmation of your previous education: a general school certificate that must be translated into Czech and nostrificated. It's important to be well-versed in the school program for biology, chemistry and physics to be admitted to a medical department.
The format of entrance exams for medical programs may vary from university to university. But they always include a written test in biology, chemistry and physics. Some departments also require an oral interview.
The tests are generally difficult and knowledge gained from school may not always be enough, especially given that the number of applicants is very high. If an applicant has graduated from a regular school rather than a specialized lyceum or a university-preparatory school, they'll have less overall academic hours spent on natural sciences compared to a Czech graduate. Therefore, you may end up having less knowledge than required.
Popular and rare medical programs
Some of the most sought-after medical programs in Europe are Dentistry and General Medicine. For example, according to the statistics from Charles University, the number of applicants for these two programs in the Czech Republic in 2021 was almost three times larger than for other medical programs.
If you're from abroad and want to study in Europe, you should check out less competitive programs that are just as interesting. For example, Sport Medicine that may be taught not only in medical universities but also in physical education universities. Or epidemiology, which has been growing in popularity lately.
Job prospects with a European medical degree
Medical professions are in high demand in Europe, so graduates of medical universities have no problems with employment. Graduates can work almost anywhere in Europe: a degree from a reputable state university will most likely be recognized in a different European country.
Study programs in universities are divided into medical and paramedical. Medical students (i.e. those that are directly responsible for a patient's life and physical health) must first do specialized internship training for at least two years after completing main training. At first, young doctors work under supervision of a superior doctor for the first couple years.
Meanwhile, graduates of "non-medical" programs, such as midwives, nurses, lab assistants, speech therapists, physiatrists or assistants, can start working in clinics right after graduation.
How much doctors earn in Europe
Doctors in Great Britain have the highest salaries at about 7,500 euros a month, while doctors in France and Finland earn about 6,000 euros. Doctors in Iceland and Denmark earn slightly below 6,000 euros, while salaries in Germany, Norway and Switzerland are about 5,000 euros. Central and Eastern Europe, however, lag behind their Western neighbors in the ranking: the average monthly wages in the Czech Republic, Slovakia, Latvia, Lithuania and Estonia are slightly below 2,000 euros. That's why the Czech Republic, for example, always has a shortage of doctors: many specialists move to Germany or Scandinavian countries for better pay.
Applying and studying at a European medical university can be quite difficult. Such training always requires a lot of effort, time and, most importantly, confidence that this is really your "thing". However, a European diploma is worth it due to the quality of education, career opportunities and salary levels. Foreign students are always attracted to the Czech Republic, where you can also get a high-quality medical education for free if you know the Czech language at level C1. Your chances of enrolling and successfully graduating from university increase if you receive good training in specialized language courses.